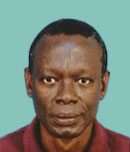 Robert Mkirya Chacha
Position: Principal Economist, Social Economics and Marketing Research and Head of Farm Business Unit (FABU)
Email: rchacha@hotmail.com
---
Mr. Robert M. Chacha graduated with Master of Arts Degree in Economics at University College Dublin, National University of Ireland in 2007. Mr. Chacha has also attended short courses and workshops both domestic and abroad in countries of USA, Swaziland, Thailand, Japan Kenya and Uganda.
Mr Chacha started his economics career in November 2003 at National Housing and Building Research Agency (NHBRA) as Economist II. He left NHBRA in September, 2008 to join Ministry of Agriculture, Food Security and Cooperatives as Senior Economist at Monitoring and Evaluation Unit, Department of Policy and Planning. In April, 2013 Mr. Chacha was promoted to Principal Economist II and in May 2019 was promoted to Principal Economist I.
Mr Chacha has intensive 20 years' experience in budgets preparations, monitoring and evaluations of which fourteen years is in agricultural sector. Among major tasks which He has participated were formulations of ASDP 1 & II Monitoring and Evaluation frameworks, Big Results Now Monitoring and Evaluation framework, baseline surveys, performance monitoring, periodic and terminal evaluations. He participated in formulation of Agricultural Routine Data system (ARDS) which has enabled agricultural data to be collected from villages, wards and districts and transmitted to Agricultural Sector Lead Ministries. Mr. Chacha has also participated in evaluations of various external consultants' documents for the Ministry of Agriculture. He has written 26 reports.
From 2018 to date, Mr. Chacha works in the Social Economics and Marketing Research Section and also Heads Farm Business Unit at TARI Mikocheni.
---
Latest Tweets