TARI Naliendele Conducts Training to Extension Officers on Proper and Safe Use of Cashew Pesticides in Liwale and Nachingwea District Councils
14th June, 2022 13:15
By

JULIUS.BUTINDI
---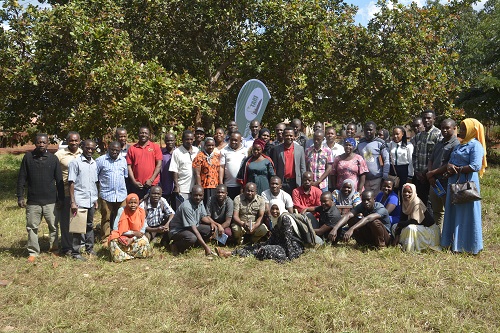 Event Date: 01-01-1970
Venue:
---
Tanzania Agricultural Research Institute (TARI - Naliendele), conducted training to Extension Officers at Liwale and Nachingwea in Lindi Regional, on proper and safe use of pesticides. A total of 71 Extension Officers were trained, whereby 26 were from Liwale and 45 were from Nachingwea districts. The aim of the training was to increase production and productivity in cashew, to contribute to the country's production target of 400,000 tons for season 2022/2023 and 700,000 tons by 2025. The training was undertaken to implement deliberations of the Lindi Cashew Stakeholders' meeting held on 04th June 2022 that was chaired by Lindi Regional Commissioner Honorable Zainab Telack.
Speaking during opening of the training, Assistant Researcher, Technology Transfer and Partnerships from TARI - Naliendele, Mr. Emmanuel Mgimiloko said, the training will be conducted in all Lindi districts, starting with Liwale on June 8th, 2022 and Nachingwea on June 9th, 2022. This will be followed by trainings that will be conducted later in other districts.
Mr. Bobnoel Assenga, a Researcher on Crop Protection, trained Extension Officers on identification of cashew diseases, cashew insect pests and proper and safe use of cashew pesticides. While, Mr. Seleman Libubulu, a technician on Crop protection, trained on the use of protective gears during spraying of pesticides and proper use of motorized blowers, especially on mixing ratios of petrol and 2 stroke oil for proper functioning of blower's engine.
Mr. Mgimiloko further explained that, this training was organized to provide skills and knowledge to farmers and operators on proper use and mixing of pesticides in controlling sucking cashew mosquito and coconut bugs. The recommendation is to use 5mls of recommended pesticide for one 1 litre of water for controlling cashew sucking insect pests.
On the other hand, the Liwale District Commissioner Honourable Judith Nguli, urged Blower Operators and farmers to stop using pesticides without abiding to experts recommendations. She emphasized that, it is important to accept and adapt instructions from experts on proper use of pesticides to manage cashew pests and diseases, to provide assurance for increasing cashew production and productivity.
Speaking on behalf of Extension Officers from Liwale district who received the training, Ms Zuhura Kimbendela commended TARI Naliendele for organizing the training. She said, the training increased their awareness and understanding on proper use of pesticides. She said, now she is aware of cashew diseases and insect pests, mixing and mixing ratios of cashew pesticides, use of protective gears and proper use of motorized blowers. Therefore, they will effectively deliver the message to farmers in their areas of work.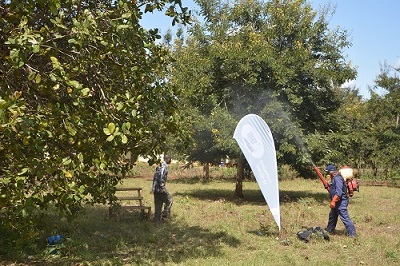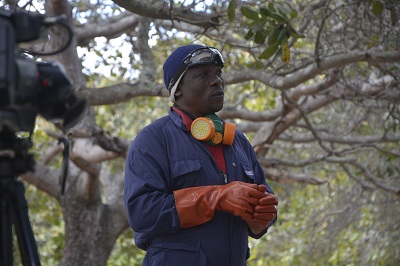 ---