Combating Arthropod for better Health, Food and Climate Resilience in East Africa 'Pests, Pollinators and Natural enemies in avocado, tomato and cucurbits within Kilimanjaro and Tanga regions'.
20th May, 2022 09:09
By

CHONA.MAHUSHI
---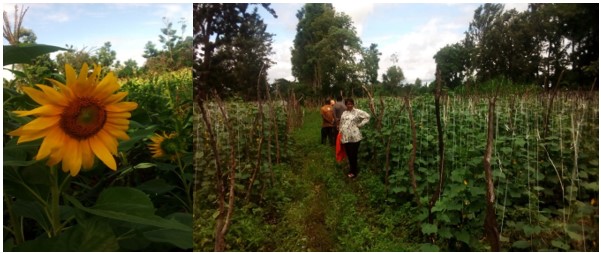 Project Background
| | | | | | |
| --- | --- | --- | --- | --- | --- |
| Year | Countries | Districts of operations | Theme | Sub thematic area | Host Dept./unit |
| 2019-2022 | Kenya and Tanzania | Kilimanjaro and Tanga | Avocado, Tomato and Cucurbits | Integrated Pest Management (IPM) | Pest Control Unit |
Main objective

The main objective of the project is to generate information on arthropods pests and their role within cropping systems so as to improve the productivity of crops while safeguarding the environmental resources that are essential for our communities. The target crops for this project are tomato, avocado and cucurbits, whereas periodic baseline surveys (based on the crop stage) are conducted for sampling all insects that are found in the mentioned crops and the surrounding areas. Thereafter a database for the collected samples is prepared based on the abundance and their diversity. The role played by each insects specie within the cropping system is defined clearly and later an Integrated Pest Management (IPM) package that advocate sustainable production of crops with reduction of the overuse or limited amount of insecticides.
The partner scientists, government departments of crop protection, farmers and research institutes will work with private sector companies to achieve this objective. It is expected that the capacity of the researchers and innovators, and their institutions, will generate and disseminate Integrated Pest Management (IPM) technologies to small holder farmers in the East Africa region.
Specific objectives
To compile and digitize available historical data on pollinators, pests and natural enemies of target crops (avocado, cucurbits and tomatoes) in Tanzania
To establish and maintain a comprehensive database and conduct risk assessment using robust risk analysis tools for invasive pests in Tanzania and those threatening the country.
To disseminate appropriate IPM packages for key invasive pests in Tanzania.
Expected outcomes
The project is expected to contribute to enhanced food security among smallholder farmers (SHF) in EA through generation of appropriate Integrated Pest Management technologies. This project will catalyse the development of sustainable crop production and conservation of potential insects that are important for improved productivity in East Africa. The three major outcome that have been realised by the project are:
1. A sustainable cropping system for Integrated Pest Management (IPM) for avocado, tomato and cucurbits developed and disseminated to stakeholders in Tanzania
2. Database of invasive pest and their management technologies developed
3. Database on pollinators and natural enemies developed and documented

Project achievements
· Baseline surveys conducted in Kilimanjaro (Moshi Rural & Moshi Urban Districts) and Tanga (Lushoto and Korogwe Districts).
· Collection of insects samples and preservation at our entomology laboratory at TARI Mikocheni sub-center
· A comprehensive database for insect pest, pollinators and natural enemies is underway

The project contributed to enhanced food security among smallholder farmers (SHF) in EA through improved pest control methods.
Funding: International Centre Insect Physiology Ecology (ICIPE), Nairobi.
For more Information contact
Essau Losujaki (MSc.), essau.losujaki@gmail.com
---