TARI Ukiriguru's Excellence in Production of Clean Sweet Potato and Cassava Planting Materials for farmers
12th June, 2022 23:51
By

DAUSON.MALELA
---
Event Date: 01-01-1970
Venue:
---
The Director General of Tanzania Agricultural Research Institute (TARI) Dr. Geoffrey Mkamilo recently visited TARI Ukiriguru with the aim of monitoring ongoing research activities conducted at the Center as well as getting to know the challenges encountered and discuss solutions options. Dr. Mkamilo was received by Dr. Heneriko P. Kulembeka the Center Director of TARI Ukiriguru and all Staff members.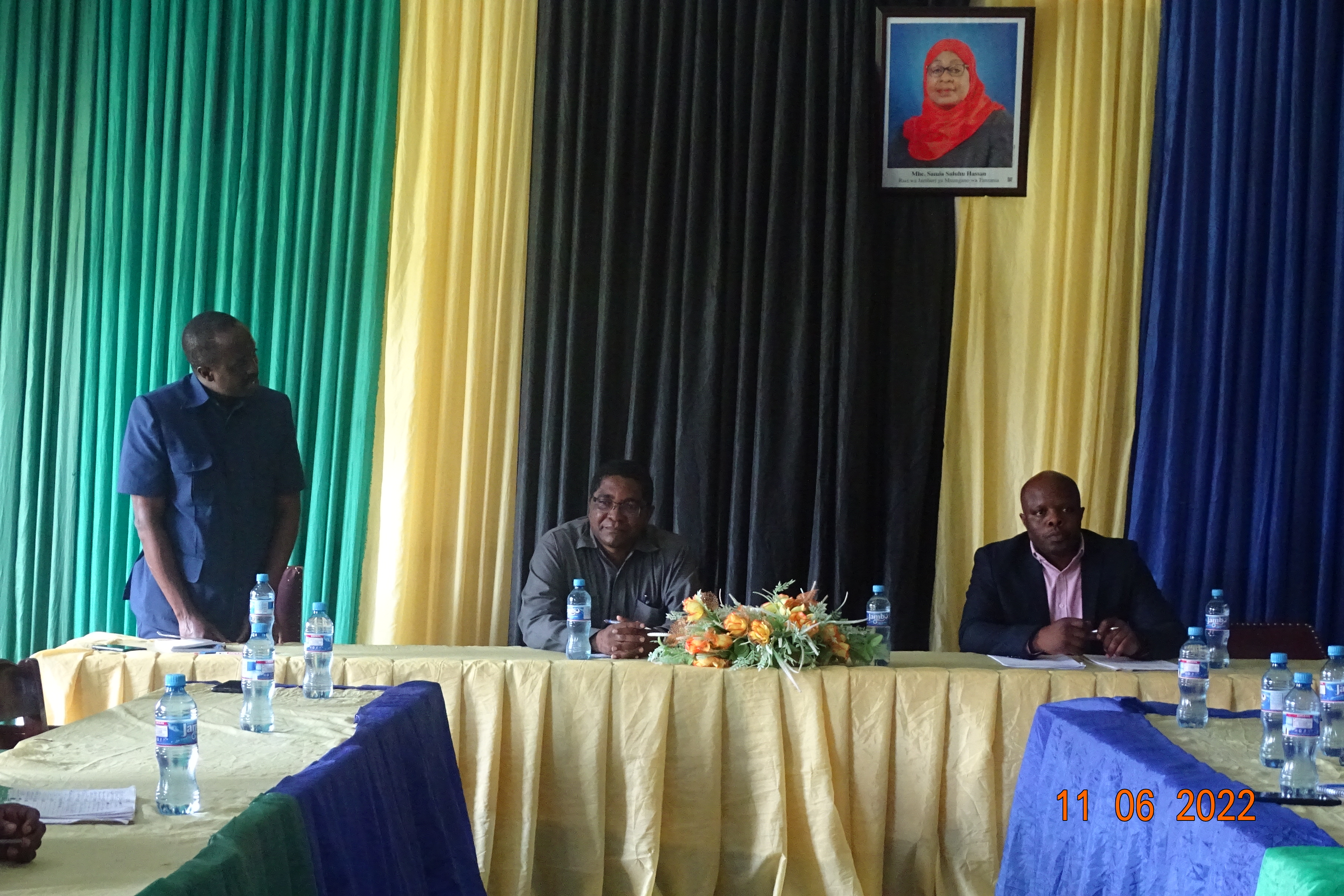 Dr. Geoffrey Mkamilo (middle) together with Mr. Zefania Mshanga Director of Administrative and Human Resource Management (right) listening to welcome and a brief over view of TARI Ukiriguru from Dr. Heneliko P. Kulembeka (left).
During his visit, the TARI Director General (DG) had an opportunity to see the production of cassava, sweet potato and cotton improved seeds. Dr Mkamilo emphasized much on promotion of research outputs to stakeholders, the end users of the research outputs. He remarked that researchers have been doing a lot of work, but the uptake of research outputs will depend upon the efforts being put on promotion of those research products.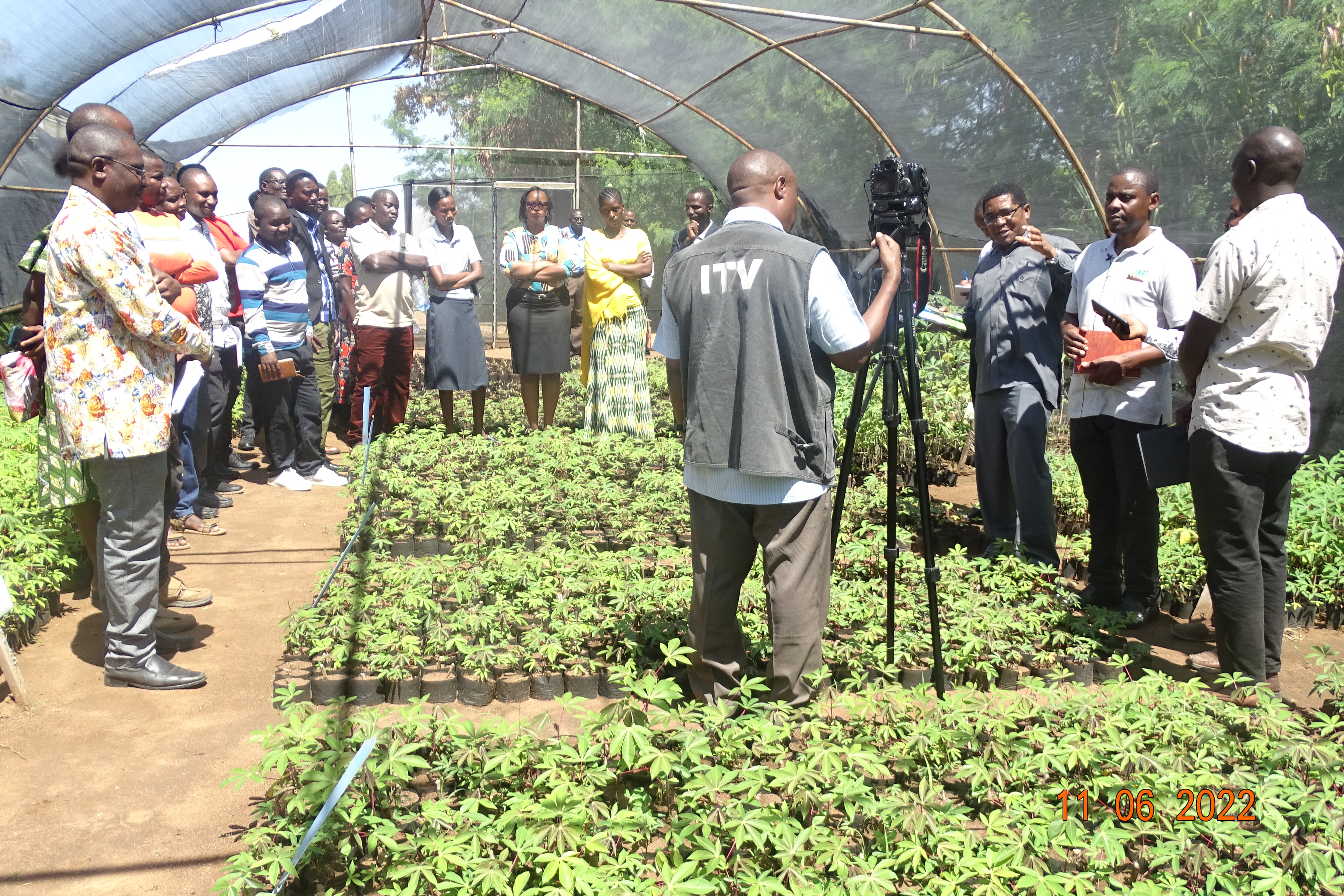 Dr. Geoffrey Mkamilo (TARI-Director General) the third from right insisting a word when he visited a screen house in which clean and improved cassava seeds are produced at TARI-Ukiriguru.
Cassava improved varieties produced at TARI- Ukiriguru have an average potential yield of 25-45tan/ha, they are resistant to pests and diseases as well as drought tolerant as compared to local cassava varieties which produce yield of 3-5tan/ha and still not resistant to pests and diseases. The system used to produce the improved cassava varieties is by polythene tubes that contains forest soil which contains high nutrients for plant growth. Dr. Geoffrey Mkamilo (TARI-Director General) insisted researchers who are involved in cassava breeding to make sure they produce adequate amount of seeds and disseminate them to farmers so that the impact of using improved cassava seeds is attained.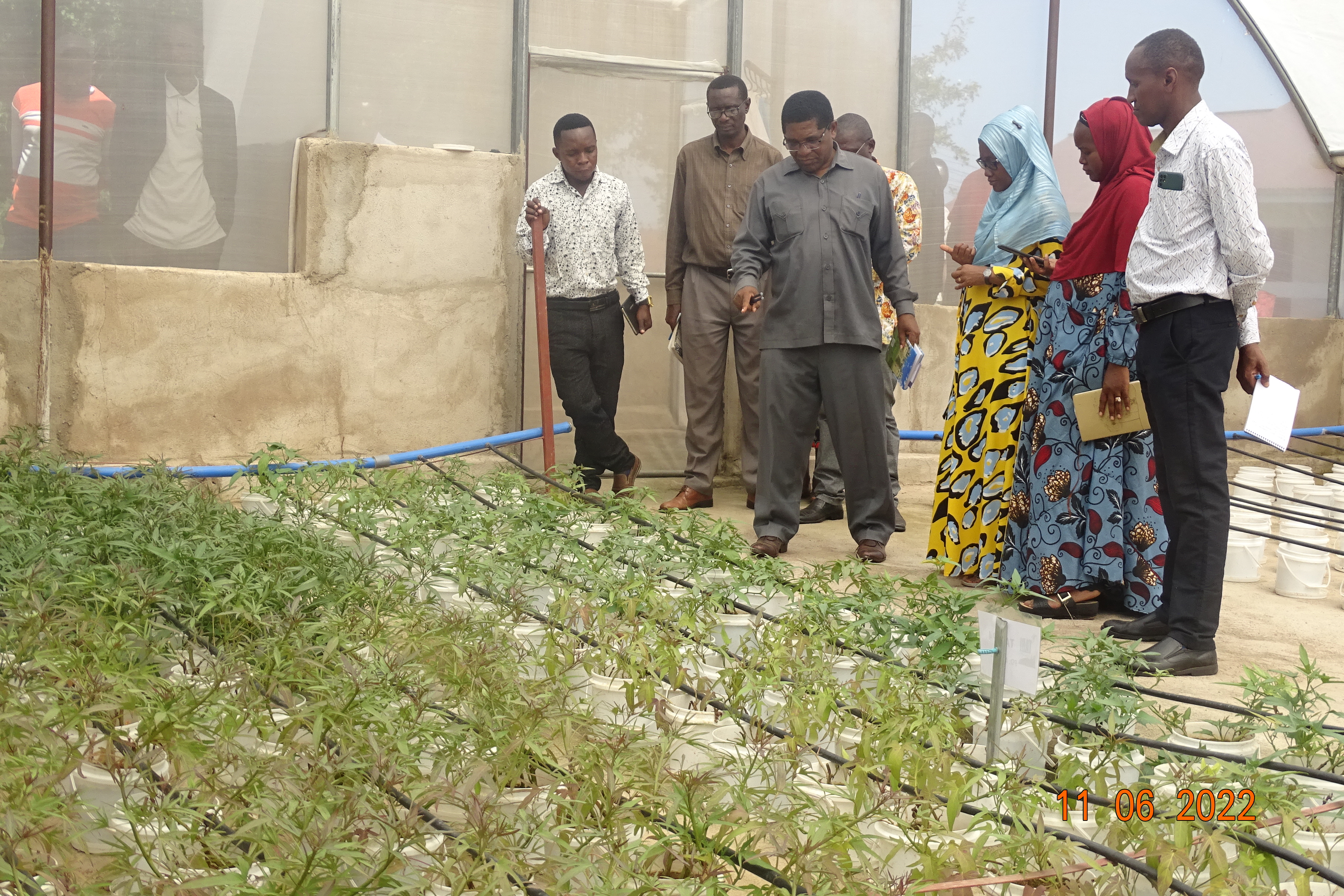 Dr. Geoffrey Mkamilo(TARI-Director General) clarifying a word on rapid sweet potato multiplication using Sandponics technology at TARI Ukiriguru.
Sandponics is a technology of using river sand to produce sweet potato seeds unlike the hydroponics (soil less culture). River sand is believed to have no nutrients. Therefore, when creating a sandponic, an appropriate amount of river water is kept in a container where by water that has been mixed with the suitable amount of plant nutrients both macro and micro nutrients will be allowed to flow on the planted sweet potato vine by fertigation as per plant requirements. Sandponics has been proven to be the fastest way of producing sweet potato seeds as it only takes 45 days to obtain sweet potato seeds as compared 60 days taken to produce sweet potato seeds when grown using soil. Therefore, farmers growing sweet potato shouldn't get worried of getting the improved sweet potato seeds from TARI Ukiriguru.
Dr. Hadija Ally who is a coordinator of SweetGains Project and working as a researcher of roots and tuber crops at TARI Ukiriguru told the TARI Director General (DG) that, TARI Ukiriguru is producing about 12 clean and improved sweet potato varieties with an average production rate of 12-24tan/ha, being tolerant to drought pests & disease resistant with high nutritive value. Unlike local sweet potato varieties which gives a production rate of 4-5tan/ha and are vulnerable to pests and diseases as well as drought. Clean and improved varieties of sweet potato being produced at TARI Ukiriguru are: - KABODE, KAKAMEGA, NASPOTI3/TARI SP4, MATAYA, KIEGEA, UKG 05, JEWEL/TARISP3, EJUMLA/MLEZI, POLISTA, UKEREWE, NASPOTI and UMEME/UKG16. Farmers are advised to adopt on these clean and improved sweet potato varieties and leave the local ones.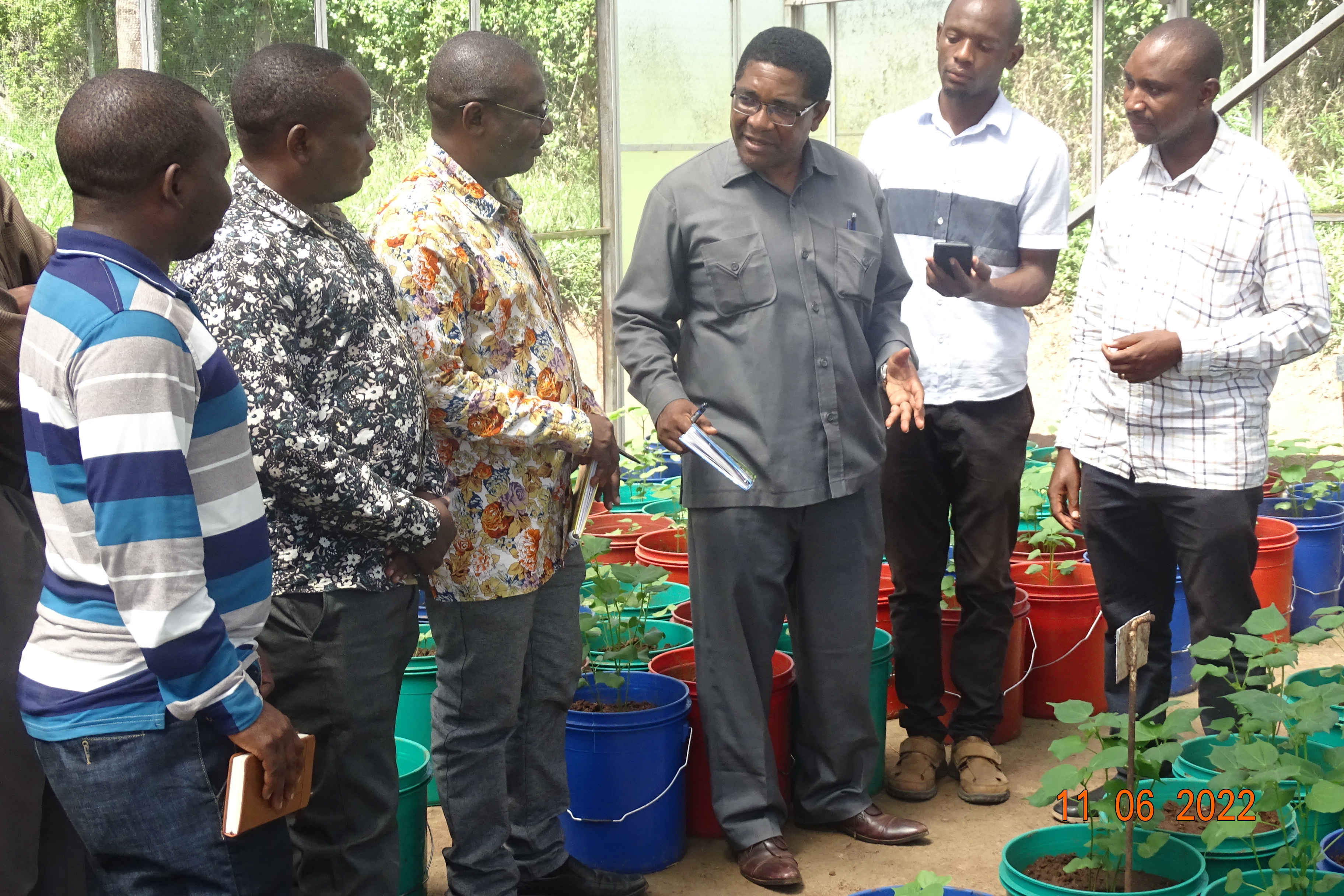 Dr. Geoffrey Mkamilo(TARI-Director General) third from right clarifying a word on cotton production pertaining matters when he visited a cotton breeding site at TARI Ukiriguru.
It was explained to Dr. Geoffrey Mkamilo by cotton coordinator Dr. Paul Saidia (the first from right) that the seed that is being used by farmers is UKM 05 and the ongoing research is that of new cotton sowing spacing which is 60cm grown row to row and 30cm from plant to plant which gives a yield of 1,400-1500kg/acre. The previous cotton sowing spacing was 90cm from row to row and 40cm from plant to plant that only produced a yield of 500-750kg/ha. After receiving a brief explanation regarding cotton production, Dr. Mkamilo congratulated researchers under cotton department for their effort but reminded them to invest a lot in coming up with pests' tolerant cotton seed variety so that they help farmers to overcome stubborn pests like Jasids.
Generally, Tanzania Agricultural Research Institute (TARI) has done a lot in making sure that farmers get benefits out of agriculture so that they eradicate poverty, ensure food security, fight hunger and finally gets employment via agriculture sector. By doing this TARI has been not only contributing to Malabo commitments but also to the sustainable development goals

---