Capacity Building of Agricultural Extension Officers on Cassava production, processing and use of Disease Diagnostic Digital tools
23rd August, 2023 06:15
By

SINGIRA

News
---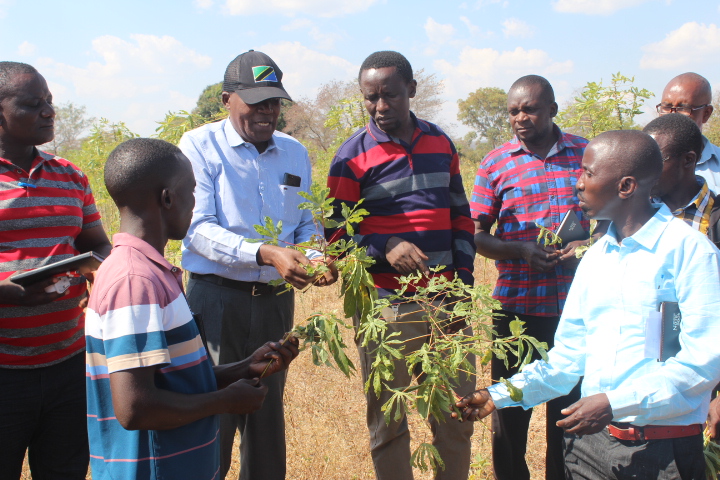 Training programme of Agricultural Extension Officers on cassava production techniques, processing and use of digital tools for disease diagnosis is taking place at Tabora Municipality. The training involves 82 extension officers from 14 districts in four regions. The districts include Itigi and Manyoni (Singida); Kaliua, Urambo, Nzega DC, Nzega TC and Uyui (Tabora); Tanganyika, Nsimbo and Mlele (Katavi); Buhigwe, Kasulu TC, Kasulu DC and Uvinza (Kigoma).

The Regional Agricultural Advisor for Tabora, Mr. Said A. Babu officiated the training. In his opening statement, Mr. Babu urged extension officers to use the skills gained from the training to impart the knowledge to cassava farmers in their localities and in particular to cassava seed producers to be able to produce quality cassava planting materials/seeds. He further insisted that, extension officers should play a leading role in ensuring that the needed steps including uprooting the diseased plants to control cassava diseases are applied by all farmers. This is the only way the cassava diseases will be controlled to increase cassava production and productivity in Tanzania.

Speaking during the training, Dr. Kiddo Mtunda who is the National Coordinator of Muhogo Bora project from International Institute of Tropical Agriculture (IITA), said that, this training is part of the implementation of the set project activities to achieve key milestones and outputs. She said the project planned to train extension officers on cassava agronomy and the use of digital tools such as Plant Village NURU, Seed Tracker and AKILIMO to enhance diseases diagnosis, locate cassava seed producers and good agronomic practices respectively. This will contribute in ensuring farmers have access to quality cassava planting materials for improving cassava production and productivity in Tanzania, Said Dr. Mtunda.

Dr. Heneriko Kulembeka, who is a Project Coordinator representing Tanzania Agricultural Research Institute (TARI), said that, through Muhogo Bora project, so far 131 Cassava Seed Producers have been trained who will now work hand in hand with the trained extension officers to increase access to quality cassava planting materials.

Muhogo Bora Project which started in 2021, under financial support from Cornell University, is implemented by IITA and TARI in collaboration with NextGen Cassava, Mennonite Economic Development Associates (MEDA), Tanzania Official Seed Certification Institute (TOSCI), Building Economically Sustainable Seed Systems for Cassava (BASICS -II) and Local Government Authorities (LGAs).
---