On a Field Day Farmers Celebrate Choosing Rice Lines of Preference
31st August, 2023 09:17
By

NGABO.PAMBA

News
---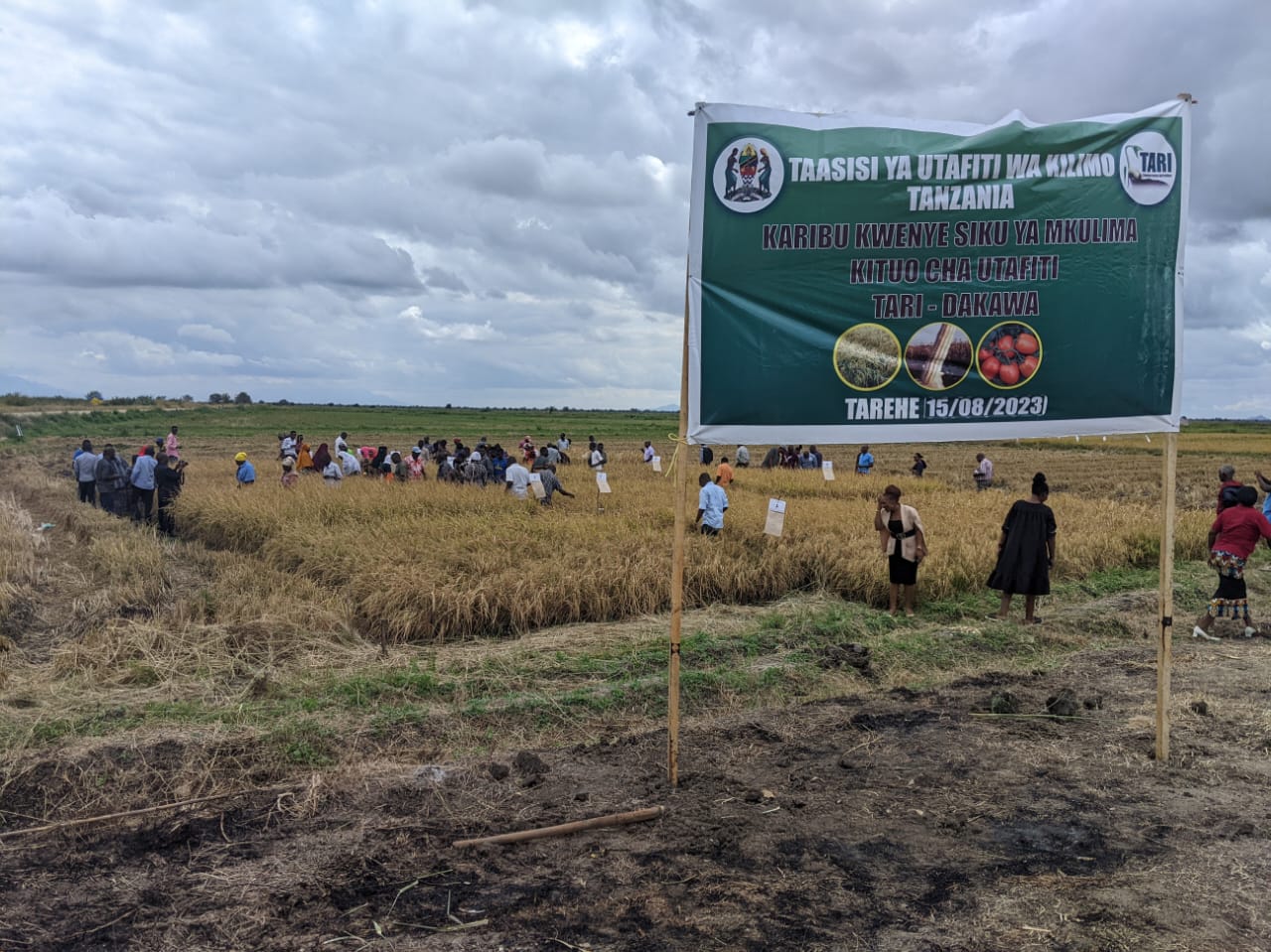 At later stages of a variety cafeteria established by a group of 12 rice farmers in 2023 growing season under the supervision of research, a field day was organized at Dakawa Irrigation scheme in Mvomero District on the 15th August 2023 gathering more than a hundred actors of the rice value chain from Dakawa, Lukindo, Lukenge, Dihinda, Mkindo, Kigugu, Komtonga and Lukenge villages. Recognizing the potential of innovation systems approach and the involvement of diverse actors in technology dissemination, the event welcomed smallholder farmers, traders, agricultural extension workers and researchers (Table 1).

Table 1: Number of Participants in gender wise
| | | | |
| --- | --- | --- | --- |
| Category | Males | Females | Total |
| Farmers/traders | 48 | 25 | 73 |
| Agricultural Extension Staff | 7 | 2 | 9 |
| Researchers/Field Officers | 19 | 7 | 26 |
| Grand total | 74 | 34 | 108 |
The intent of the event was to showcase 10 rice lines[1] to expectant end-users and involve them evaluate and choose the best bet of the same in respect to their criteria or preferences, the opportunity granted observing the in-field performance and kernels on display. This serves to demonstrate and enhance adoptability of the varieties of choice to farmers and other stakeholders upon release. Likewise, promotion and evaluation of the recent and popular released varieties of TARI RIC1, TARI RIC2, TARI RIC3, TXD306, and KOMBOKA took grounds in the event. The later both provides evidences and establishes a mechanism to feed back the research about the consumer preferences to consider in future breeding programs.
The participants went around the field, through each plot, where ten rice lines were grown, observed the performance and had casted ballots for the best performed line, according to their choice. The results favored KAT3-4-1-1, the line which had many productive tillers, long panicles, and long slender grains, the participants preferred, as compared to others. On display of kernels the selection favored SUPA.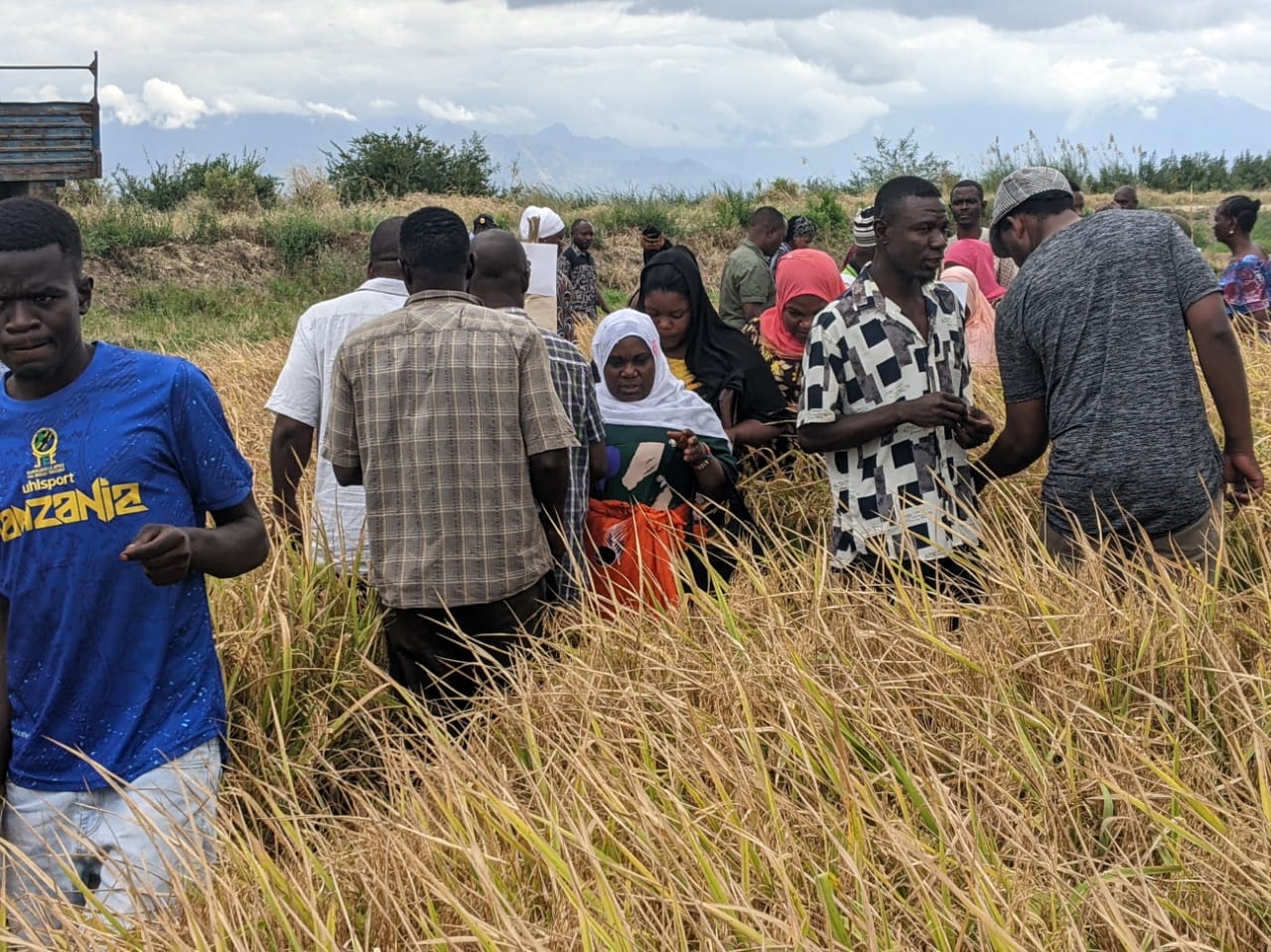 Farmers go round the trial established at Dakawa Irrigation Scheme, observe the performance and select the best performing rice line. Source: Ngabo
Moreover, researchers explained most important distinctive merits of each released variety on promotion, and then the audience made a glance of displayed kernels and polled for the best one. Similarly balloting was done with cooked milled rice for the sensory testing. TXD306 (SARO 5) and TARI RIC3 occupied the first and second rankings respectively in both kernels observations and organoleptic testing.
---
[1] Rice lines adopted (DK2, KAT3-4-4-3-1-1, IRRI 3N154, KAT3-4-1-1, DK3, IRRI 223, SUPA) are advancing to the national performance tests (NPT) and distinctness, uniformity and stability testing (DUS) after which whether qualify for release or not. The varieties included TARI RIC1, TARI RIC3 and TXD306.
---